Monozukuri:
Manufacturing with awareness.
Creating for our future.
Awareness leads to change.
The clear umbrella, made of vinyl and plastic, is a distinctly Japanese product. It is also known as a disposable umbrella. Cheap and easily breakable, over 60,000,000 of these umbrellas have been used, broken, and discarded.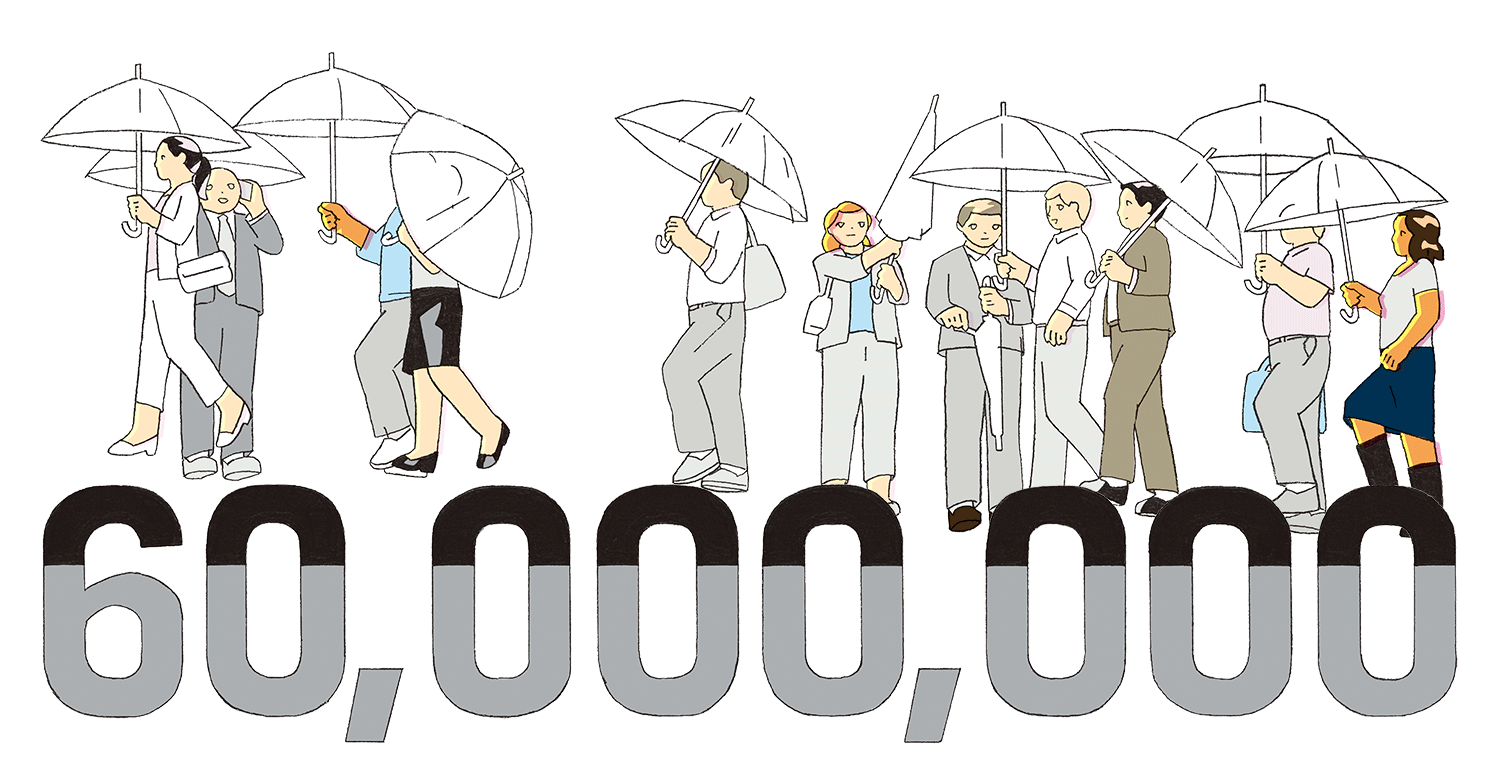 In the streets, unclaimed umbrellas are automatically sent to the trash bin. These umbrellas are made of materials that make them difficult to be properly sorted and recycled. For this reason, an unfathomable number of vinyl and plastic umbrellas have been sent to the landfill. Umbrellas, which were originally created to make our lives better, have become a serious threat to the welfare our planet.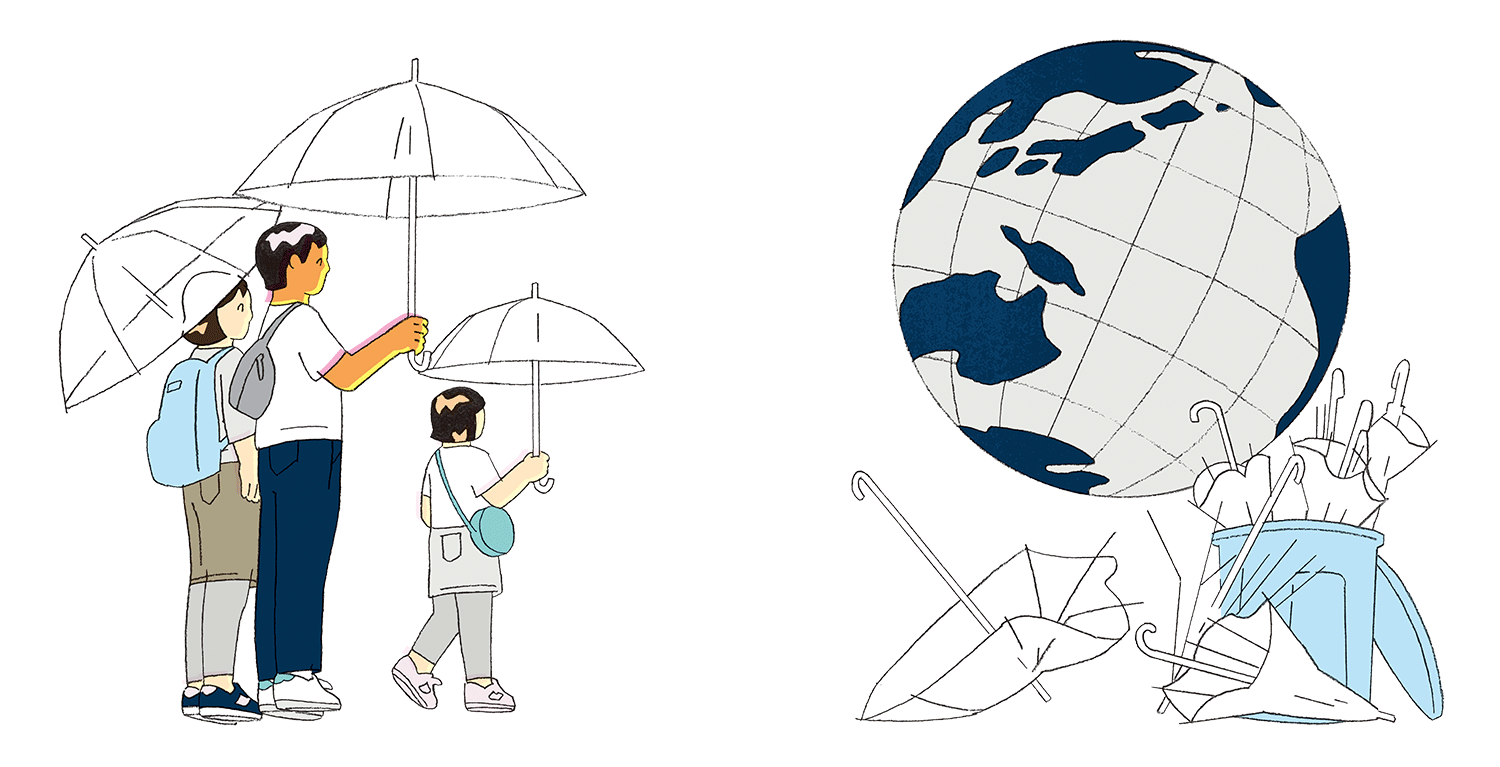 Yesterday, we might have said "Hmm, interesting," and switched over to another topic. Today, it's time to face these issues. It's time to change our practices. We must transform how we make our products and how we use them. We must manufacture with awareness and create for our future.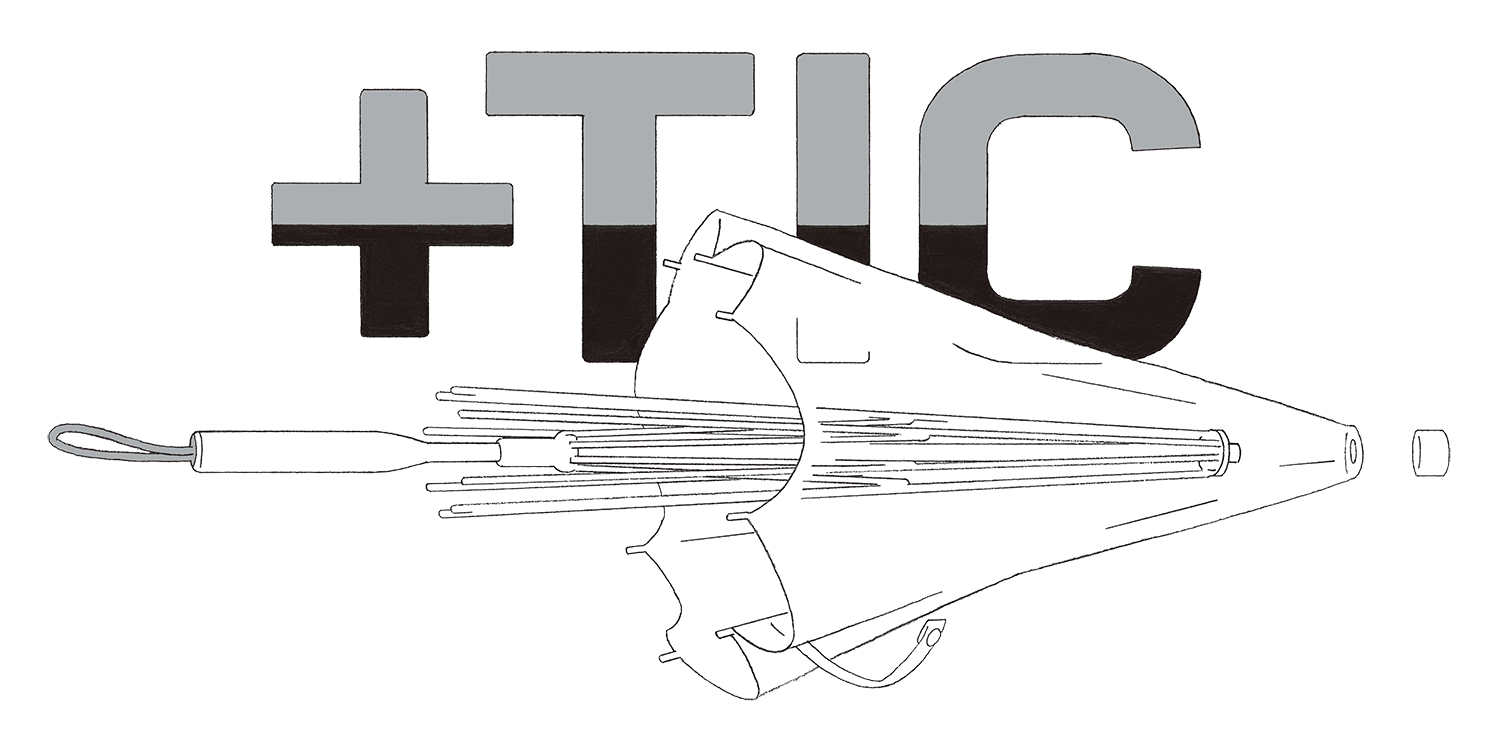 +TIC: A new kind of umbrella.
This 100% plastic umbrella is rust-free and completely recyclable. It is designed to withstand winds of up to 15 mph.

With replaceable fabric and parts, this umbrella can be repaired and reused. In Japan, people have always endeavored to create high-quality products. They feel a sense of honor in taking good care of their creations. This sentiment is a part of our culture that has been passed down through generations. It is our hope that the +TIC umbrella will set off a new wave of sustainable manufacturing and a value system that will change the way we treat our products. We want to contribute to solving the current global environmental issues so that they dissipate, like rain clouds, and reveal a bright future.
About Caetla
Caetla is ça et là, which means "here and there" in French.
From here to there—the name contains our vision for the future.
Company name

Ca et la Co.,Ltd

Representative

Takeshi Yamamoto

Founded

April 1991

Principal business

Planning and sales of fashion accessories

Line of business

Umbrella / Rainwear / Rain boots

Capital

15 million yen

Headcount

7(As of September, 2023)

Headquarters

5-14-17, Mita , Minato-ku, Tokyo, 108-0073, Japan
2016

Began selling BLUNT as an authorized reseller in Japan.

2014

Established Cambodia office.

2010

Transferred Evereon manufacturing to Xiamen, China.

2005

Established Evereon factory in Pingdi, China.

2003

Established office in Xiamen, China.

2002

Established office in Dongguan, China.

2001

Moved and established Hong Kong Ca et la International at Causeway Bay.

1998

Founded Hong Kong Ca et la International.

1997

Opened the first Caetla store and cafe in Shibuya-ku, Jinnan area.

1995

Business expands to Shibuya-ku, Jinnan area.

1991

Began to manufacture and sell umbrellas and rain gear at Tokyo's Shirokane, Minato-ku district.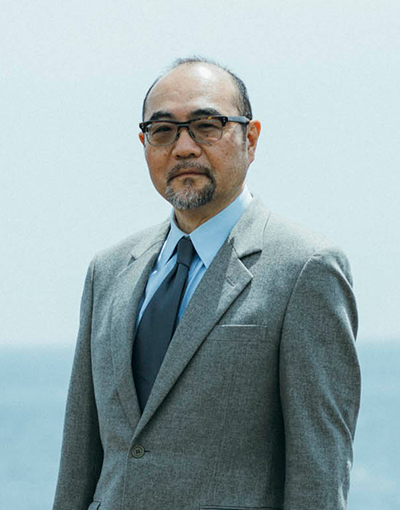 2017

Began production and distribution of +TIC, an ecological, all-plastic umbrella.
Present
Actively involved in the distribution of +TIC umbrella and activities relating to ethical consumption.

2006

Established a factory in China to begin production and distribution of Evereon, a durable vinyl umbrella.

1998

Established Hong Kong Ca et la International to strengthen production management.

1991

Founded Caetla to manufacture and distribute umbrellas.
Began manufacturing and distributing original products at department stores.

1977

Worked for a Taiwanese trading company.
Established an umbrella factory in Taiwan.

1955

Born in Fukuoka Prefecture, Japan.
Office Locations
Hongkong Office
Company name

Ca et la International Co.,Ltd

Representative

Kazuto Kimura

Founded

August 1998

Principal business

Planning and sales of fashion accessories

Line of business

Umbrella / Rainwear / Rain boots / Bag / Furniture

Adress

13B Hoi To Court, 275 Gloucester Road, Causeway Bay, Hongkong
China office Xiamen
Company name

Ca et la International Co.,Ltd

Representative

Zhishan Chen

Founded

April 2003

Principal business

Umbrella / Raincoat production control / Quality control / Delivery date management / Product development

Line of business

Umbrella / Raincoat

Adress

D03, 15/F, Lianfu building, Siming district, Xiamen,China
China officeDongguan
Company name

Ca et la International Co.,Ltd

Representative

Makoto Kawata

Founded

February 2003

Principal business

Quality control of furniture and fashion accessories / Production control of furniture and fashion accessories

Line of business

Furniture / Fashion accessories / Stationery / Consumables etc.

Adress

13C, MingXuan Ju, Jin Yu Ming Yuan, No.9
Chai Hong Road, Dongguan City,Guangdong, China
Cambodia office
Company name

Ca et la International Co.,Ltd

Representative

Zhishan Chen

Founded

Mayl 2014

Principal business

Umbrella production control / Quality control / Delivery date management

Line of business

Umbrella / Plastic umbrella

Adress

MANHATTAN SPECIAL ECONOMIC ZONE
SANGKAT BAVET, BAVET CITY,
SVAY RIENG PROVINCE,CAMBODIA
Affiliate Organizations & Projects